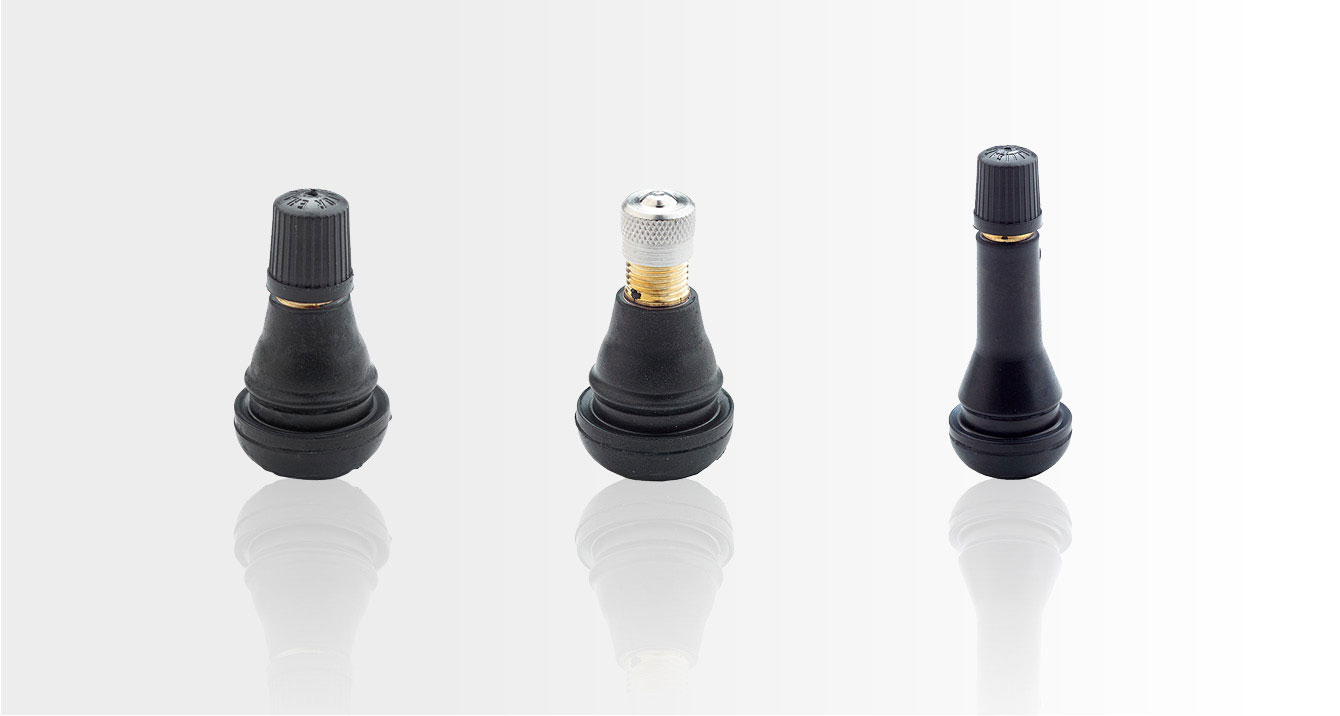 1. What types of tyre valves are there?

The rubber valve is one of the most commonly used types of valve. The most popular are so-called "snap-in valves" made of rubber, which are attached to the bead of the new tyre. Metal valves are often chosen for light alloy rims for visual reasons. Of course, metal valves can also be fitted to steel rims. Metal valves are characterised above all by their greater stability and are known for their higher tightness, which withstands even high pressure conditions well. Metal valves can also be reused after changing tyres if they have not been damaged.
2. Metal or rubber valves?

As a rule, metal valves are more expensive than their rubber counterparts. Another disadvantage of metal valves is that they are inflexible. If they come into contact with something, they are more likely to break than to bend easily like a rubber valve. So the question of when to use a metal valve or a rubber valve is more a question of safety. At higher speeds, metal valves are the better choice because they can handle the centrifugal forces better. They do not bend as quickly as rubber valves. Rubber valves are usually only permitted up to a speed of 210 km/h according to the manufacturers' specifications. Many rim manufacturers therefore prescribe the use of metal valves. However, depending on the vehicle and driver, rubber valves are also a very good option.
3. How often does a valve need to be changed?

Tyre valves should be replaced regularly. Usually when the tyres are changed or when the vehicle is serviced. Most tyre manufacturers recommend using a new rubber valve every time the tyre is changed. However, after four years at the latest, the old rubber valve should be replaced with a new one. This is because rubber valves wear out over time due to environmental influences. This leads to a loss of pressure in the tyre.
4. What should be considered when fitting new tyre valves?

It is important to check the rim for sharp edges or protruding parts. These could damage valves. It is also important to use the correct tool for installing the valve so that no damage occurs to the rim or valve during installation.
5. Do tyre valves have an expiry date?

The rubber parts of a tyre valve have an expiry date due to the material. As a rule, they have a shelf life of at least five years. The valves should be stored in a dark place with a constant temperature for protection. Exposure to light and temperature fluctuations will accelerate the ageing of the rubber.
Valves range
For a safe driving experience, it is important not only to maintain the tyres and rims regularly. It is also relevant to ensure that the tyre valves are in good condition. Our tyre valve range includes snap-in rubber valves as well as clamp-in metal valves. Our product range leaves nothing to be desired. In our webshop you will find tyre valves for cars, trucks, vans, motorbikes, bicycles, agricultural & construction machinery. You will also find spare parts and accessories for tyre valves.
Valve extensions
Valve extensions are for extending conventional valves to provide better access to the valves and to facilitate air pressure control. They are not to be used together with rubber valves. Due to the design of the valve extensions, the valves are excellently protected against external damage. The product range in our online shop includes the classic car, truck and motorbike valve extensions in various materials and sizes.
Valve extension - 461-HFL, 480 mm
The flexible valve extension 480mm with 2 nuts from ALLIGATOR enables hard-to-reach valves to be reached and is ideal for earthmoving machines. The highly flexible hose extension made of rubber with an effective length of 461mm can withstand a pressure resistance of 70 bar. A clamp is required for assembly. The flexibility (100%) of the hose ensures a high level of break resistance and flexible use. It should be noted that valve extensions made of rubber are under pressure (up to 20 bar), should not be kinked and must not touch the rim hole. Valve extensions are not to be used together with rubber valves.
Valve extension - 107 mm, support tube
Valve extensions lorry Alligator, 10x valve extension 107.5mm tyre valveRigid lorry plastic valve extensions by ALLIGATOR with a length of 107.5mm. The white valve extensions consist of a support tube and a plastic cap with seal.ETRTO no.: V9.16.4 | Continuous operating temperature: -40°C/+80°C
Valve extension - bent 45°, with cap
The ALLIGATOR valve extension made of brass is especially suitable for trucks. It offers an effective extension of 77.5 mm and has a bending angle of 135 degrees. The valve extension is protected by a plastic cap.
Valve cores
Every tyre valve has a unscrewable valve insert (also called a valve core), which is of enormous importance for the tightness of the valve. If the core is not inserted correctly or is damaged, the tyre will lose air. As a wearing part, the valve core should therefore be checked and replaced regularly. You can order the right spare part quickly and easily in our WEGMANN automotive webshop. Whether short or long, car or tractor - with us you will find valve inserts for every application.
Valve caps
Valve caps are considered a necessary safety component for tyres - they ensure greater driving safety and reduce driving costs. They maintain the correct air pressure in the tyres and prevent the loss of tyre pressure. Valve caps protect against gradual loss of pressure, dust and dirt Tyre pressure should be checked at regular intervals and the valve caps inspected for external damage. In the event of a loss of air pressure, the valve caps should be checked first, followed by the valve insert, the entire valve and finally the entire tyre. In our assortment, we offer you not only valves but also the corresponding valve accessories, such as valve caps. We have valve caps for cars, vans, trucks, motorbikes, scooters, tractors and construction machinery. We offer the valve caps in different colours and in various materials. For the production of the valve caps, we use high-quality materials such as EPDM rubber, which has a high resistance to ozone, sunlight and chemicals.
Valve cap - black
High-quality valve cap from ALLIGATOR made of black plastic with seal. Delivery in a practical pack of 100 pieces. Material valve capplastic
Valve cap - silver, V2B
50x check valve cap V2B ALLIGATOR, check valve caps commercial vehiclesThe V2B valve cap does not need to be unscrewed to check and adjust the air pressure. This saves time, costs and ensures increased safety.Sealing concept: The built-in check valve with two high-temperature seals prevents pressure loss even if the valve core is damaged or dirty. The front surface is completely sealed and is thus resistant to dirt and water. Material valve capbrass